Your thoughts shape your vision.
You see what you choose to see.
"Wonder is a meditative moving sculpture that aims to show how everything is interconnected."
Tom Lawton
Now available in Polished Copper
to PRE-ORDER at £1200 each.
Until 31st Dec 2022
Tom & his team will be building Wonders in batches and shipping the first batch of 100 in December. This first batch has sold out and now we're on to batch two which will ship in March 2023.
(The listed price in 2023 will be £1,950 & exclusive to selected galleries).
This is a pre-launch reservation opportunity for friends & fans of the project.
By pre-ordering now you are guaranteed to receive your Wonder ahead of the rest.
Wonder will launch to a wider audience on October 18th via this Kickstarter campaign.
Orders are prioritised on a first come, first served basis.
View Wonder now in AR!
(free download)
We recommend that before you make a pre-order you download the WonderAR App (on iPhone and Android) and visualise Wonder in your space to be 100% sure that it's exactly as you imagine it to be.
Each unit is hand made to order so it's important that you & Wonder are attuned before you set your heart on owning one.
Wasted journeys are bad for the planet so we're hoping that the App helps give you the confidence Wonder is definitely for you.
Once placed, pre-orders may not be cancelled after 30 days.
Wonder - what's in the box?
Each Wonder sculpture includes:
Precision crafted spiral with a polished copper finish & protective lacquer

Silent turntable & base cast from aluminum with a matt black finish

Single touch, low power operation via mini USB

Ultra thin Micro USB to USB cable 2.5m long in black (only UK orders ship with a mains plug)

Revolves at a fixed speed of 16 RPM with silent operation

Beautifully presented and protectively packaged for worldwide shipping

Built to last a long time with a replaceable motor

Dimensions 20cm (width) x 20cm (depth) x 30cm (height)

Made in England by Uplifting Products Ltd

Suitable for all international markets
---
"Astonishing"
Rory Sutherland, Vice Chairman, Ogilvy
"It's like a cosmic orgasm"
Paris Ackrill, Co-founder Avalon Wellbeing
Wonder - the story so far...
Wonder, has been imagined, designed and fabricated by Tom Lawton through the course of the Covid pandemic and with thanks to a successful crowdfunding campaign and a donation from the James Dyson Foundation has been produced in bronze by Pangolin Editions in Stroud for permanent display in Malmesbury Abbey.
Comprising of a single, self-supporting, ribbon-like structure finished in polished copper, which appears to flow like water as it spirals both upwards and down, expanding outwards and contracting in.
Wonder arrived at Malmesbury Abbey to great reception and together with Malmesbury Live Arts and the Abbey, Tom organised a musical extravaganza 'Renaissance of Wonder' to celebrate its unveiling.
Hundreds & thousands of vistors have now visited the abbey to experience Wonder's universally peaceful and calming effect.
"Enigmatic, mysterious and beautiful.
Tom's incredible creation echoes DNA and has the essence of infinity & eternity.
The medieval chapel at Malmesbury Abbey seems the most befitting place for Wonder to find its first ever home. Here in the heart of our town for the marvel and enjoyment of us all."
Reverend Oliver Ross, Malmesbury Abbey
Sign up to stay in the loop
Subscribe to newsletter
Wonder follows Uplift and began its life as a discrete and illuminating installation off Malmesbury high street in the cold winter of the third lockdown of the pandemic to serve as a provision of hope for the local community. Residents would often gather outside the window alone, with children, with elderly relatives and after long shifts at work.
Tom's original Wonder presently sits in Avebury's Great Barn by invitation of the National Trust where it is on display to the public for free, until 3rd April 2022. The barn is open daily from 10am to 4pm.
Wonder will then move to its temporary home at The Long Table, near Stroud.
These isles of Wonder
While Wonder has been designed and fabricated by Tom in rural Wiltshire through the course of this pandemic the genesis of it began in the years leading up to 2020.
Wonder brings an etherial and calming presence to a space, creating an atmosphere and focal point for relaxation, contemplation & meditation.
Wonder's impact on the public is already profound with hundreds of positive impressions and incredible interpretations from visitors far and wide. Some people are moved to dance, some to song, others to a state of deep calm and some are even moved to tears. The experience is universally uplifting and peaceful, just read the thousands of comments on these threads: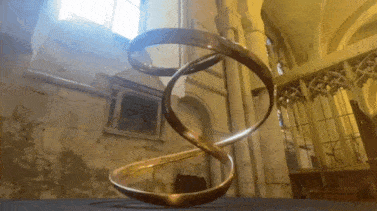 Tom's vision is grand. With dramatic scale and music and consciously curated spaces we'd like to take Wonder on tour and find homes for permanent installations in prestigious and unconventional locations across all regions of these isles of Wonder... and then eventually, the world... so that as many people as possible can experience its otherworldly effect.
If you'd like to be involved please email wonder@tomlawton.com
"It's a brilliant masterpiece you have created.
I have no other word.
Beyond its aesthetic and physical constituents it emodies so many things.
You have reached some Truth in the form. I am sure you understand what I mean."
Daniel Kapelian, OMA Space, Seoul
Follow @tomlawton on Instagram or Twitter and Uplifting Products on Facebook and Instagram for the latest news and product launches.
Holographic trademark copyright Tom Lawton, registered and owned by Uplifted Products.
Wonder is also protected by five registered designs and has international patents pending. All rights reserved.
Images my not be used without prior written permission.